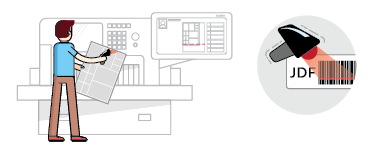 Scanning job
Cutter operator scans JDF barcode on job ticket

Optimizing
Cloud-based Scissor Hands optimizes job and loads into cutter
Starting
Scissor Hands reports job start to MIS
Cutting job
Cutter operator follows animated instructions on mounted touchscreen
Finishing
Scissor Hands reports job completion to MIS
What is Scissor Hands?
Scissor Hands is an award-winning cloud-based software that instantly converts JDF layouts into cut programs. These cut programs increase productivity and profit margins through unequaled automation and integration with your existing cutting machine, MIS and prepress systems.
When it was first introduced?
Scissor Hands was developed by Opensoft Inc. in 2013 to increase throughput in the bindery without adding iron to the floor. Its cloud-based software intelligently delivers smarter cut programs through proprietary artificial intelligence that maximize efficiency on guillotine, laser and die cutters while reducing labor costs.
2015 Must See 'Ems Award Winner
The annual Must See 'Ems Award at Graph Expo, one of the largest displays of live running print equipment in the Americas, recognizes top innovative print industry products capable of revolutionizing their market segments. Winners are evaluated and carefully chosen by a panel of industry experts who vote on products in 11 categories that meet the criteria of: innovation, ease of use, throughput and competitive advantage.
Named a Must See 'Ems award winner at Graph Expo 15, Scissor Hands was recognized as a leading innovation in cutting edge automation in the Management Systems category for software used for estimating, costing, JDF connectivity and plant management. Scissor Hands proved its auxiliary system for cutting machines improved cutting efficiency, removed training barriers, reduced cuts by up to 60%, and allows a bindery to increase throughput without losing floor space.